This section does not count towards your score. It is a section that can appear any time after AWA Section and cannot be identified as an unscored section.
This is a research section that appears at the end of the test. This too is an unscored section.
GRE Scoring Pattern
GRE Examination is scored out of 340. The scores scale from 260-340 with each section maximum score being 170 marks. The Analytical Writing Section is scored separately out of 6, in increments of 0.5 marks. An average score in GRE would be around 310 and the student would be able to see the score of the Verbal Reasoning and Quantitative Reasoning section right after the examination, but the final scorecard with the analytical writing scores will be available only within 21 days of writing the examination. The GRE score is valid for 5 years.
How to Register for GRE?
There are three ways to get yourself registered for this exam: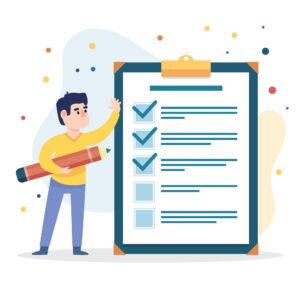 Online registration is done by visiting the ETS website, where the aspiring candidate has to create an account and fill up the personal details on that website which does not take more than ten minutes. Once you are finished with filling the details then you can start your registration process and in the end, you will be led to the last step that is a payment, where you can pay the fees by your credit or debit card.
Registration via Mail can be done by downloading the registration form and mailing it along with the payment to ETS-GRE, PO Box 6000, Princeton, NJ 08541, USA( when you are paying by debit or credit card ) and ETS-GRE, Box 382013, Pittsburgh, PA 15251-8013, USA( when paying by money order), it should be known that ETS may at least take 3 months to complete this process.
Registering via Phone can be done by making a call at 91-124-4147700. Payment in this way is done through American Express, MasterCard, or E-Cheques that should be drawn against US bank accounts.

GRE Fees
The GRE General Test fees amount to USD $205, while the fee for the subject test is USD $150. In addition, in the case of late registration, there will be an additional charge of USD $25. At the time of registration, a candidate has to select a preferred date from the slots available and schedule their exam. The candidates can request a change of slot later for a fee of USD $50 and reschedule the examination to another available slot.
GRE Eligibility
To give this test in India, you have to prove your identity, and for this purpose, you must have a valid passport. Apart from this, you cannot use any other document like date of birth, driving license, etc. as an identity. A candidate should be of a minimum 18 of age and there is no upper age limit for writing the GRE test but the university for which a candidate is applying may have their age restrictions or other conditions.
GRE Test Dates
There is no fixed date for giving the GRE Examination, you can give this exam at any time of the year. Most of the students write the examination in India during the months of July through December as the application forms in most colleges open during the months of September to January. If a student is planning to write the GRE during this time, then he needs to plan his dates well in advance.
Syllabus for General Test
Analytical Writing: In this section, a candidate's ability to evaluate complex ideas and support those with relevant arguments and evidence and how well he comes up with a logical discussion in support of his arguments are assessed. It also tests how good is written communication, which means there is an emphasis on grammar, vocabulary, and sentence formations.
Verbal Reasoning:  This section assesses the candidate's ability to analyze and draw interpretations and inferences from the given passages and recognize the author's presumptions and notions. This section also includes vocabulary, usage, and contextual vocabulary questions. 
Quantitative Reasoning: This section assesses the candidate's ability to understand the information presented in the quantitative form and elucidate quantitative facts and data and find solutions to the given mathematical problems using mathematical formulas and application of basic mathematical conception and skilfulness. There are primarily four types of questions in this section viz. Multiple Choice Questions, Quantitative Comparison Questions, Fill in the Blanks Questions and Data Interpretation Question.
Following is the list of topics that come under the section of Quantitative reasoning: Ratio and Proportion, Simple and Compound interest, Profit and Loss, Speed, Distance and Time, Quadratic Equations, Statistics, Linear Equations, Probability, Sets Theory, Powers and Roots, Triangles, Quadrilaterals, Polygon, Coordinate geometry, Circles, Order of operations, Number properties, Percentage, Pipe & cisterns, work & time, Lines and Angles, Volume & surface area, Permutation & Combination
Syllabus for the Subject Test
Following subjects are included in the syllabus of GRE Subject test
Biology
The test comprises of 190 five-choice questions of Biology & following are the topics
Cellular and Molecular Biology
Organismal Biology
Ecology and Evolution

Chemistry
The test comprises of 130 multiple choice questions and is associated with the four fields of chemistry that are divided into the following topics
Analytical Chemistry
Organic Chemistry
Inorganic Chemistry
Physical Chemistry

Literature in English
The test of literature covers areas from poetry and plays, history of language and literature, essays and biographies, novels and short stories, literacy theories, and questions of criticisms, so the following are the topics that a test taker should cover to prepare for the literature part.
Literary Analysis
Cultural and Historical Contexts
Identification
History and Theory of Literary Criticism

Physics
The test comprises 100 five-choice questions and some of them are presented as a diagram, graphs, and experimental data and description of physical situations.
Electromagnetism
Classical Mechanics
Quantum Mechanics
Thermodynamics and Statistical Mechanics
Atomic Physics
Special Relativity
Optics and Wave Phenomena
Specialized Topics
Laboratory Methods

Mathematics
This test evaluates your mathematical knowledge of how much are you able to solve arithmetic, algebra, geometry, geometric, and statistics questions. The test comprises of 66 multiple – choice questions from the topics of mathematics that is commonly taught at the undergraduate level such as
Algebra
Calculus
Additional Topics
Arithmetic

Psychology
The test comprises 205 multiple-choice questions. There will be given five choices as the answer and the test taker has to choose the most suitable option. The following topics should be referred to for the preparation of Psychology.
Biological
Cognitive
Developmental
Social
Clinical
Measurement/Methodology/Other

How to Prepare for GRE?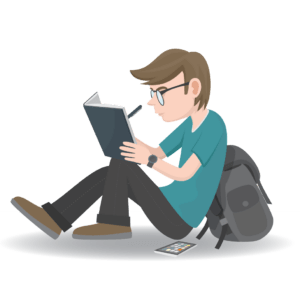 Choose the right study material: An important thing is to choose the right study material for the preparation of any subject. If you are giving this test for the first time, then start with the basic books to revise your concepts. The best material in the market is the GRE Official Guide. The Official Guide is published by ETS and it has questions from the previous exams. Apart from the Official Guide, there is also a Verbal and Quants Guide by ETS available in the market which you can purchase after you have completed the Official Guide.
Choose your test date according to your preparation: Do not be in a hurry to give GRE. First, you should estimate the time required by you to prepare for the exam, and accordingly, select and schedule the date of the test.  Normally a student would take about 4 months to prepare for the exam including practice mocks.
Mock Test or Practice Test: Before you start your GRE preparation, it would be a good idea to take a test from ETS.org. The test will give you a good understanding of the test pattern and the structure of the examination. Once you complete the fundamental books, it will be a good idea to do at least 6-8 mocks before you go for the final examination. The mocks will help you fill your gaps and most mocks in the market would give you a good understanding of the score levels you can achieve in the final test.